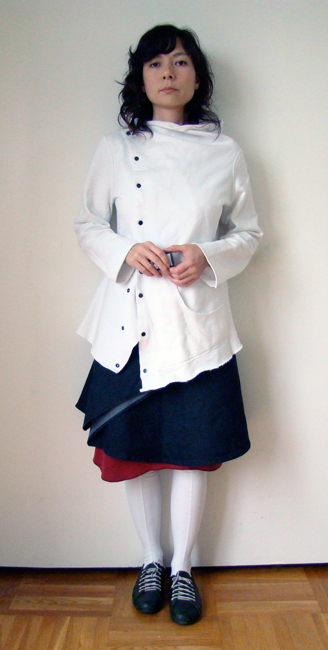 Yes. MAKESHIFT is a project by designer Natalie Purschwitz.
Seven weeks ago, she started a year long project to wear clothes, shoes and accessories made by her exclusively.
Natalie has a website documenting the effort at
makeshiftproject.blogspot.com
And though she is only two months in, it's been quite a journey so far for the Makeshifter.
Today, I met Natalie at the Makeshift showroom at 8 East Cordorva in Vancouver.
It displays SOME of the clothes she has worn or clothes based on clothes she has worn.... We had a little conversation about the MAKESHIFT journey so far. And my first question to Natalie was, what did she wear today:
The project is in part to draw attention to her work - but I wouldn't say it's a publicity stunt. If it is, it's one that has life-changing ideas. People in France and Italy are tracking her work. And now you can too.
Plus if you love what you see on MAKESHIFT - she's offering clothes based on her adventures through her Super! Surprise! program. You can find the info at
makeshiftproject.blogspot.com
.